The collapse of the Kabul (former) regime is turning into some kind of bacchanalia, unfortunately, a bloody one. Distraught and losing the last human aspect of the crowd, trying to board the planes departing from Kabul, disorganized the operation of the airport to the point that the German plane sent for evacuation simply could not land on the lane with a crowded people. The American military, who were transferred to provide evacuation, periodically open fire, according to various reports up to 5 people have been killed. The satellite strip looks like this
The United States announced the transfer of another couple of thousand people, bringing the number of the contingent to 4 thousand, but so far nothing has been done.
The chaos is so great that they publish a photo of an abandoned toddler on an airway field in the shadow of a hastily stretched barbed wire. Whether it is true or not, it is unclear, but the fact that in such an environment everything is possible is a fact.
Already published footage of people falling from planes trying to catch on external structures – landing gear and protrusions on the body. It is known about at least three people died in this way. Up to 600 people are literally loaded onto planes (with a capacity of 200).
In short, there is no organized evacuation, rather a dump. And against this background, the former President Ghani, who was unable to cram all the cash into the plane, looks especially disgusting. However, it is difficult to expect anything else from such scum. For this particular purpose, such a creature was appointed for the role of a president, to betray everything and everyone. He played the role brilliantly, betraying Afghan people easily without the slightest remorse.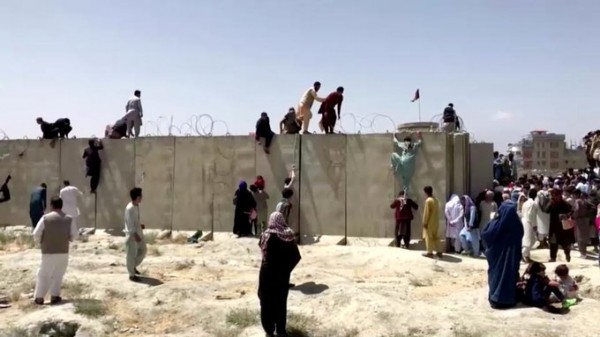 There is an exodus of the military as well. The Uzbek authorities have shot down a light military plane and are forcibly imprisoning and interning Afghan soldiers who are trying to flee the country on military aircraft. 22 military aircraft and 24 helicopters of Afghanistan with 585 soldiers who crossed the air border of Uzbekistan were forcibly landed in Termez, the Prosecutor General's Office of Uzbekistan said. About 100 military men flew to the Tajik airport Bokhtar.
Part of the military is afraid of reprisals – the order of the new authorities to disband the special operations forces has already been announced. This is a kind of "golden division", trained by the Americans, and which is the only one that has somehow relatively successfully resisted the Taliban in recent months. The Taliban formally announced full amnesty and forgiveness, but no one knows how it will actually act. Moreover, there are leaders of the previous regime (primarily from the security structures) who can hardly count on forgiveness.
A column of Afghan soldiers on the Druzhba bridge, trying to escape to Uzbekistan
No comments…..
The United States of America demonstrates to the whole world the main thing – it will always abandon those who were called allies. As soon as they are no longer needed, they will be abandoned and forgotten. This is for those who count on the civilization of the bosses – they will abandon everyone. They've abandoned their Afghan "friends". Of course, few people like to part with illusions. Let them continue to believe. Paraphrasing a well-known expression, we can safely say: "The bosses will abandon you, son. Always."